Subaru 1000 (1965)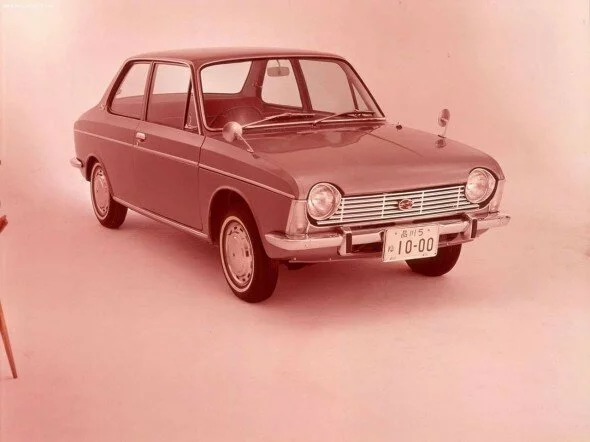 Manufacturer : Subaru


Productions : 1965


Source : netcarshow.com
The Subaru 1000 was the first front wheel drive Subaru produced by Fuji Heavy Industries starting in 1966. It is sometimes claimed to be Japan's first mass produced front wheel drive car, although Suzuki had been producing front wheel drive cars in small quantities since 1955. All previous Subaru models such as the Subaru 360, Sambar, and 450 had been rear engined, rear wheel drive cars.
These cars featured a unique water-cooled, horizontally opposed four cylinder engine, with overhead valves operated by pushrods. It is thought that the engine was inspired by those used in the German Hansa-Goliath cars that had gone out of production a few years ealier, but it is not certain whether or not Subaru engineers actually used the design as a reference. Modern Subarus still make use of horizontally opposed four cylinder engines, albeit of a much greater capacity and with more modern overhead cam driven valves.
As was typical of early front wheel drive cars, the 1000 featured inboard drum brakes up front (but atypically Subaru would retain this unusual design into the seventies). Other unique features of the 1000 were a lack of a heater core, the heating system took its warmth directly from the radiator, and a hybrid suspension system that used torsion bars in combination with coil springs (much like the front suspension of the Subaru 360). The 1000 was superseded by the 1100 (also known as the Star in the United States and in other export markets) at the start of the seventies.
---
---